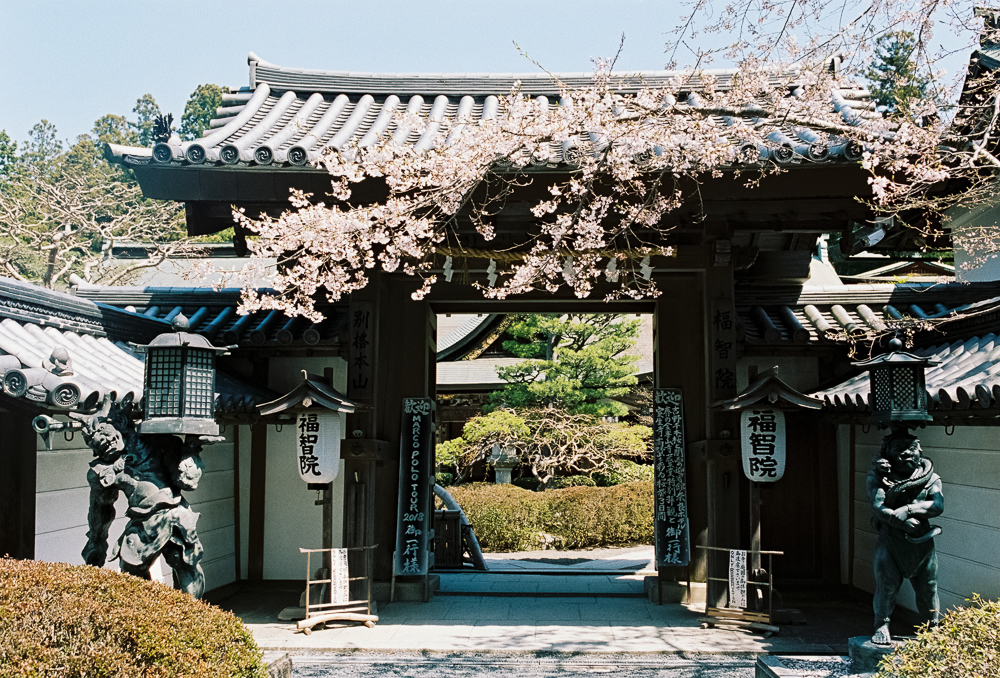 So, Japan this time. Land of the rising sun. Home of Pokemon. Empire of cherry blossoms. Nation of ninjas. Origin of the Samurai. Place of death of Jesus. World champion in fish feeding.
A balancing act between tradition and modernity. A feast for the senses, expensive fun for any analogue photographer.
First stop: Kyoto. Old imperial city and capital. Fortunately escaped the big bomb. And look there quickly for the cherry blossoms – are they still in full bloom, or are we too late? We were lucky, a few flowers are still in full bloom. Always following the hosts of Chinese tourists.
On the occasion of the Sakura (cherry blossom), which symbolizes the start of the year in Japan, a picnic in the park (under cherry trees) is a popular pastime. The odd local likes to consume a drink or ten on this occasion. Very amusing to watch.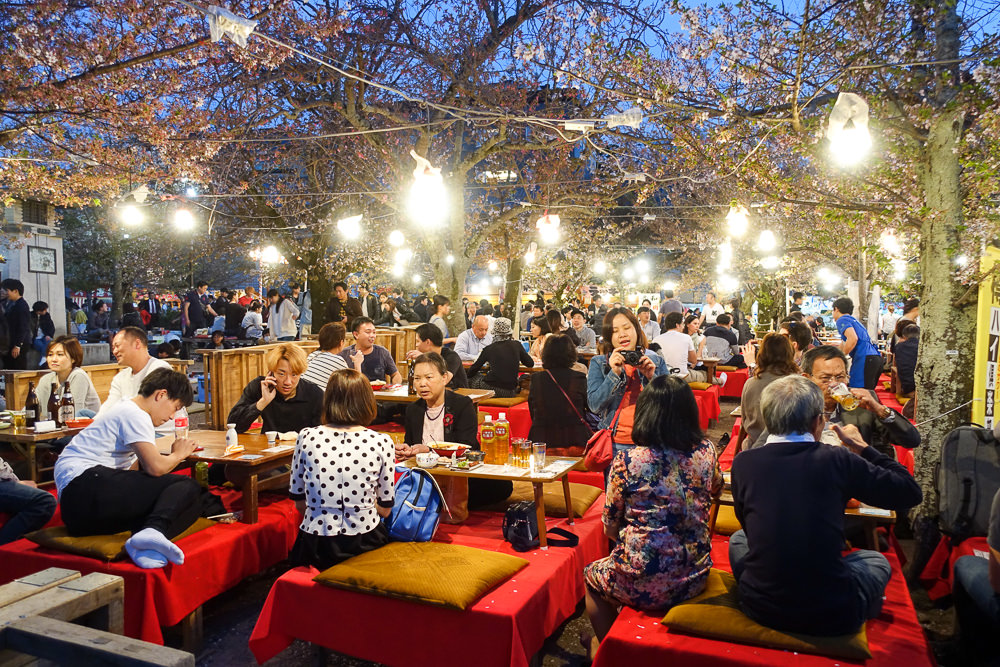 To get to the famous (allegedly approx. 10,000) archways of Fushimi Inari Taisha before the crowds, we started cycling at 6 o'clock. The place quickly gets very crowded with tourists. After all we wanted to get 1-2 photos without masses of people. Seen a thousand times, but still an absolute spectacle. By the way, here is a secret top travel tip: if you want to see the archways deserted, just hike up the mountain for 45 minutes. There are also archways there. And the normal tour bus crowd does not get that far at all.
By the way, the characters on the archways mean nothing spiritual, but – quite profanely – the names of the sponsors of the respective archways.
The search for geishas or even women in kimonos proved to be difficult. Actually, they were always disguised Chinese tourists. In Kyoto's old town we were lucky and caught a Japanese bridal couple at a photo shoot. Well, half a bridal couple, but the rest of the picture is free from tourists for a change.
Also to the well-known bamboo forest in Arashiyama we started early – again to avoid crowds. It worked really well, even though we took the wrong train first. We were among the first 10 or so. The forest seemed to be smaller than expected. One thing is for sure: Wind in the bamboo forest sounds really great. (And reminds of the movie "Crouching Tiger, Hidden Dragon").
ODing on temples is easy in Kyoto. There is a such an abundance of them. One of the most beautiful ones was, in our opinion, the golden temple. A bit cheesy but really very impressive.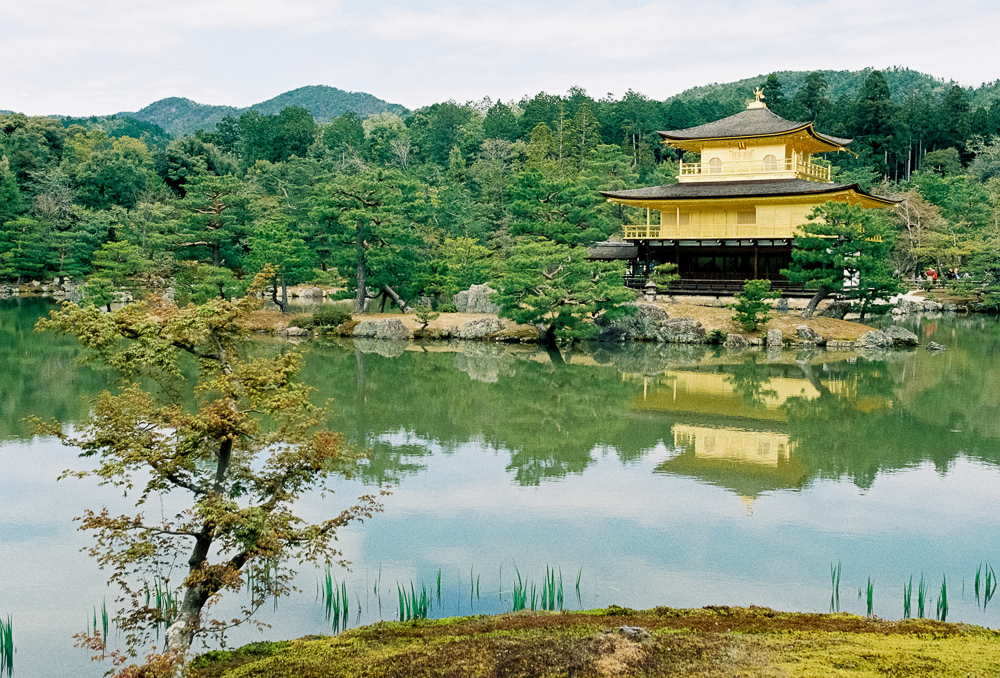 Many temples feature Zen stone gardens. Something to do with meditation…looks quite structured and orderly. These are of course qualities that make the German heart beat faster.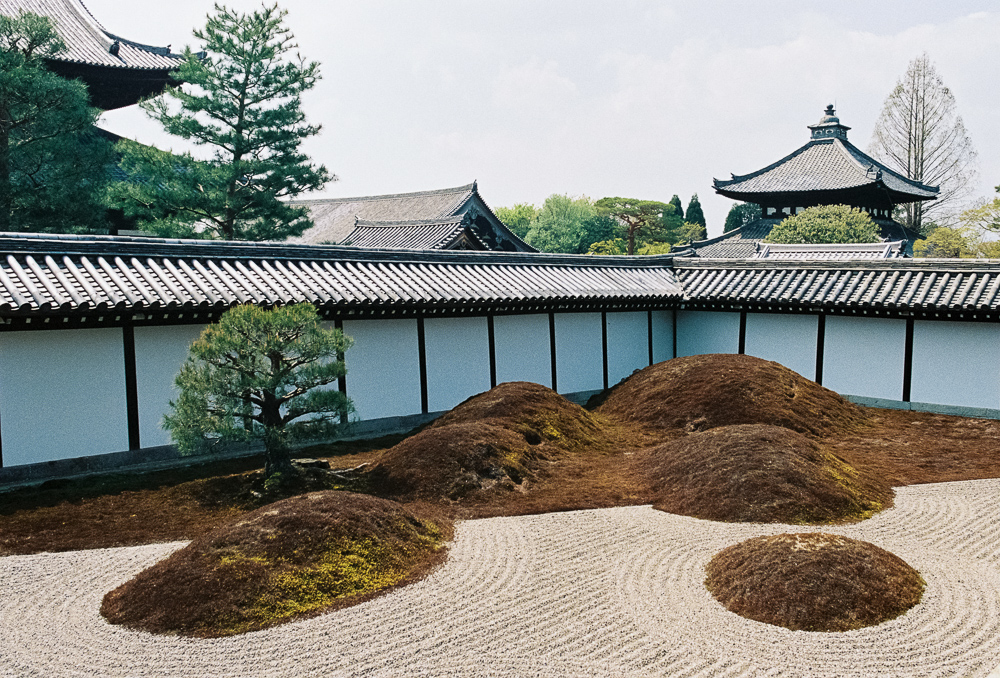 Nara, our next stop, is teeming with domesticated deer. They are everywhere, lurking for the unsuspecting tourist even at the vending machine.
In Nara there are otherwise a few really nice walks in the green.
Oh, and temples, of course.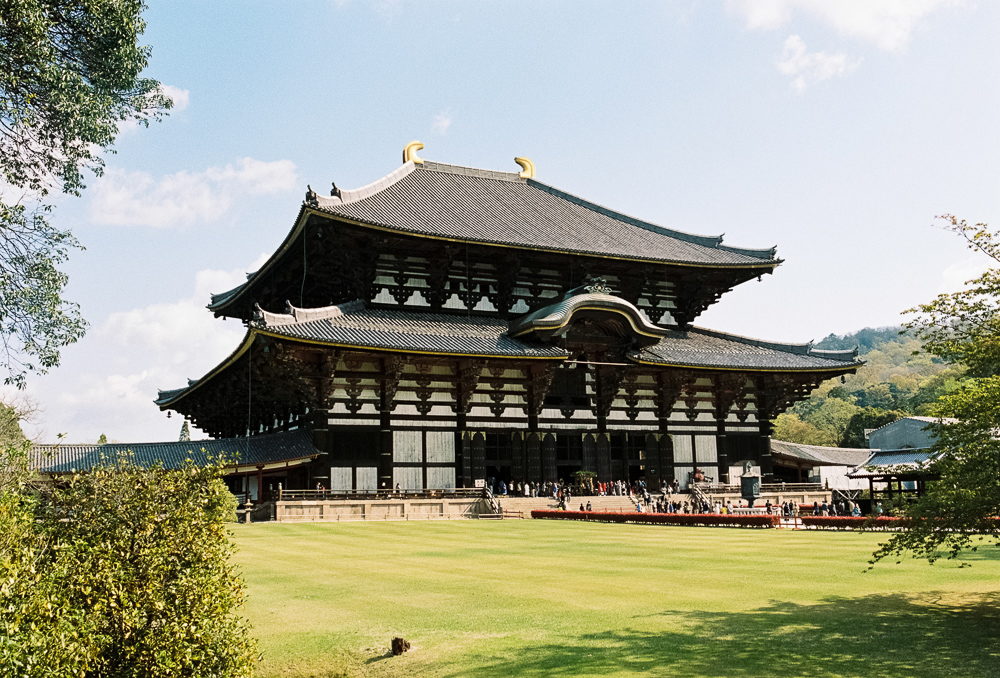 In Koyasan, a place in the mountains and the origin of Shingon Buddhism, we spent some nights in a Buddhist monastery. So, shoes off, kimono on and sleeping on the tatami mat. More comfortable than we thought.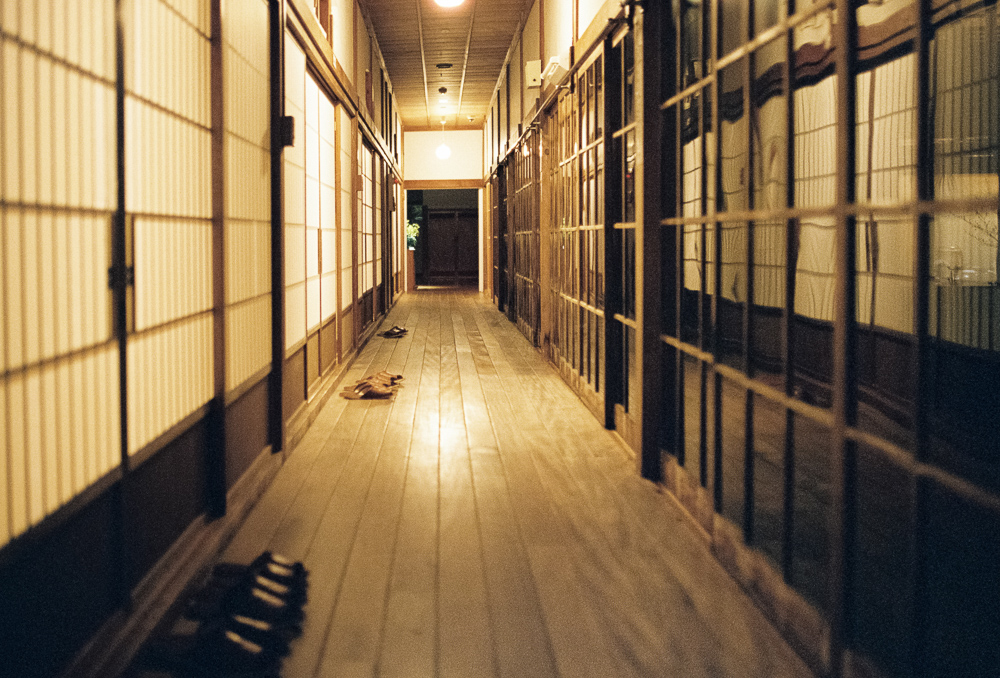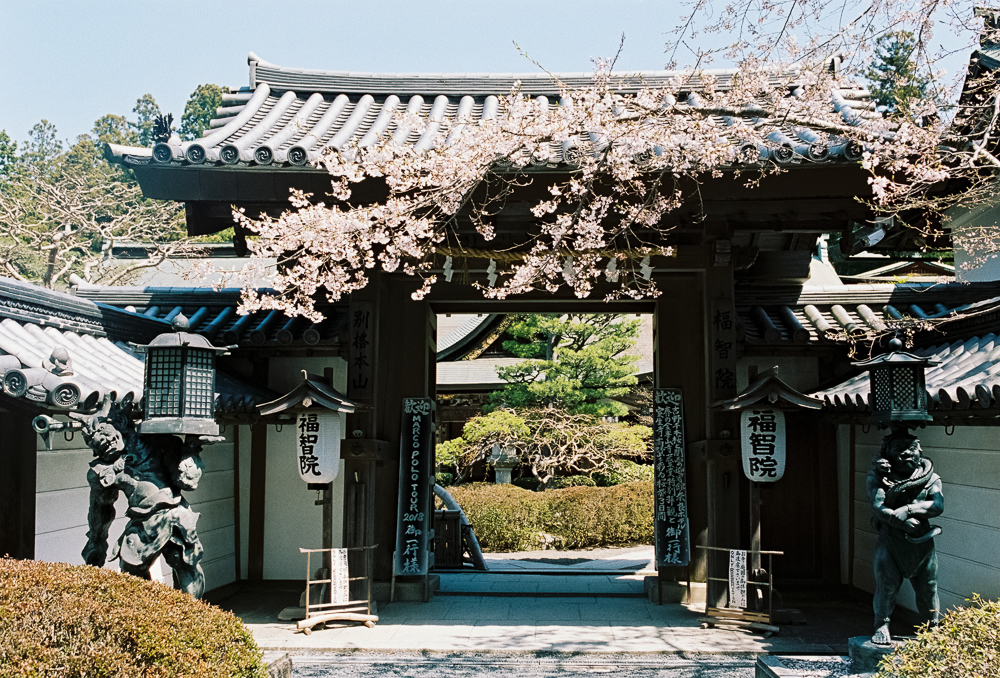 In the village there is a cemetery, whose oldest graves date back to the 7th century. A good place for a night walk.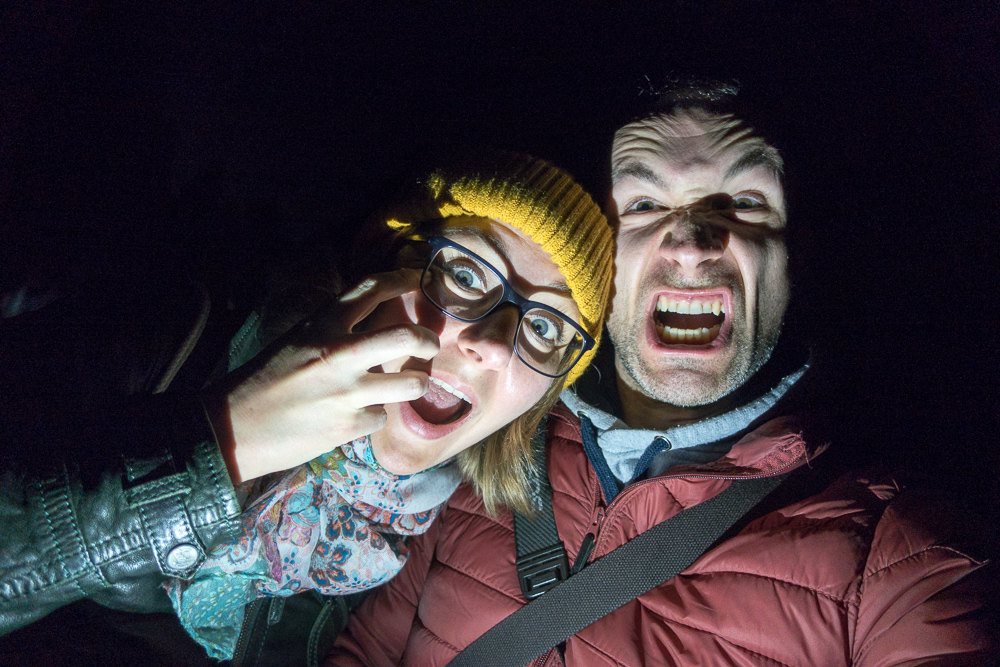 In a fishing village by the sea on Kyushu we met this friendly older gentleman with his dog. He and his puppy were deeply relaxed at the seaside – in a cool outfit. The world  still seems to be in order there – except for the latent fear of tsunamis, at least when the protective walls and breakwaters in the background are an indicator.
The quiet fishing village invited you to relax in the low afternoon sun at about 22 degrees.
In Takachiho, this udon noodle chef is a little legend. An ex-runner with marathon and ultra-run history. We didn't find out all the details, but his restaurant is filled with running photos, and he would surely have reported it, if we had understood each other better.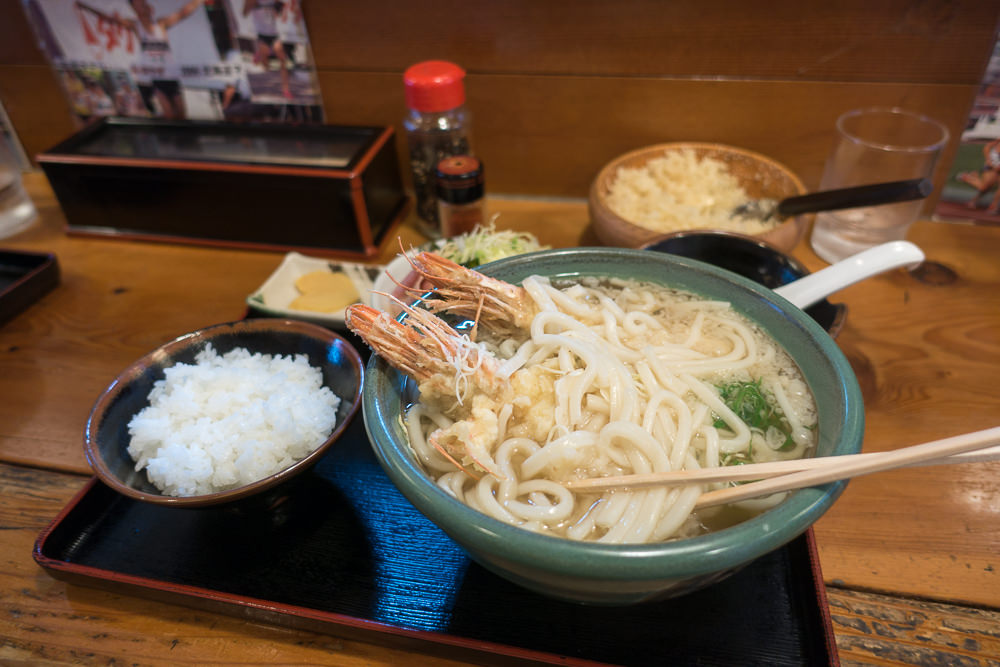 We hiked the beautiful nature around Takachiho, among other things to a fancy waterfall.
And here is the proof that beach holidays with palm trees are also possible in Japan. We didn't even travel at the really tropical islands in the south to see them.
In Kurokawa Onsen, a kind of health resort with natural hot springs for bathing ("onsen") one actually doesn't do much, was suggested to us by locals: Relax in the fancy Ryokan Hotel, eat Kaiseki and enjoy the hot natural baths.
Wellness and relaxation were important. After all, we went to Tokyo afterwards. 35 million people, noise, neon lights, crowds. We were looking forward to that.
And in Tokyo, after a few minutes, this guy with his manga comic passed in front of my lens as if I had wished for it. Cliché confirmed, thank you!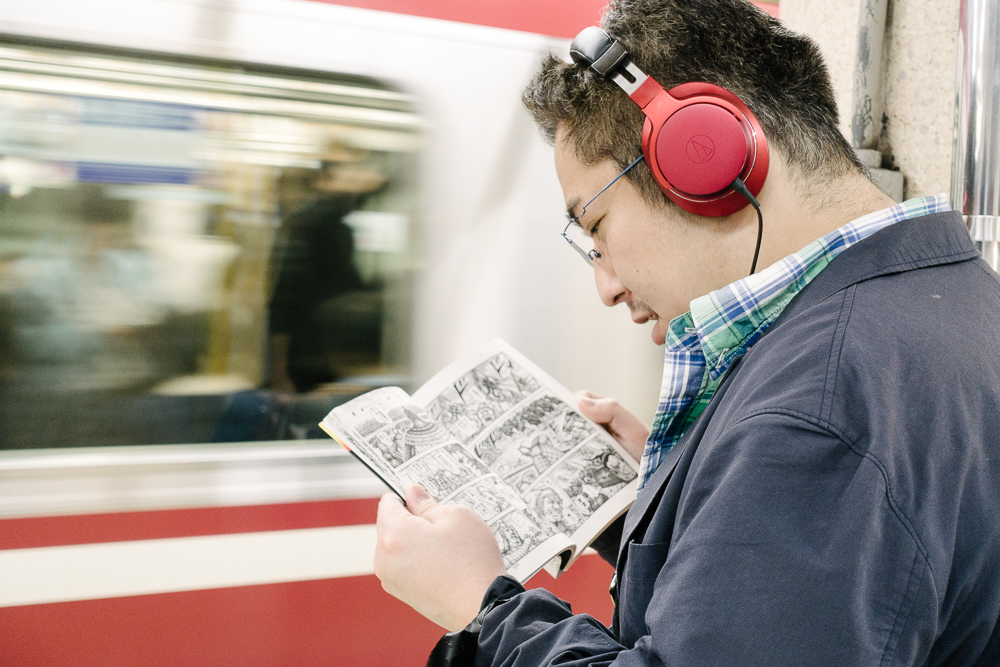 Cliche mouthguard? Also confirmed. Probably for protection against infection (and also of infecting others).
The normal distribution in the Tokyo subway: 2/3 of the passengers on the phone, 1/3 sleeps.
In a really crowded subway, it's hard to take pictures. Therefore, here is an average full train as compensation.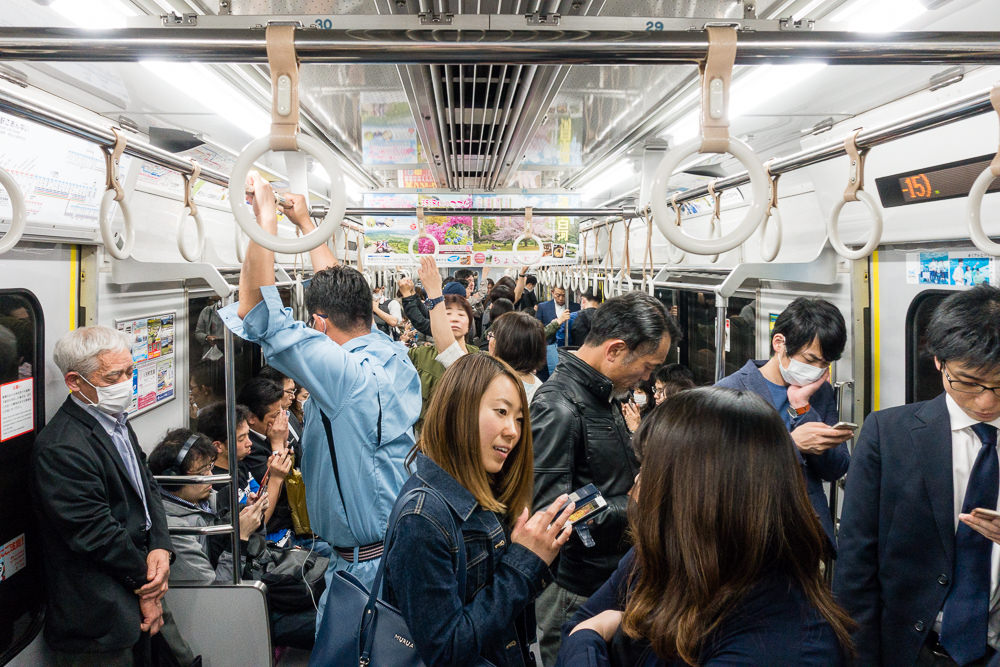 Yes, the famous cross of Shibuya is really busy. Allegedly more than 1,000 pedestrians per green phase cross the crossing. It looks a bit smaller than expected.
There is generally little space in Tokyo. Our hotel room was almost luxuriously large with 10 sqm. Some prefer to go to a capsule hotel – also called "morgue". For playing soccer there seems to be space only on the roof.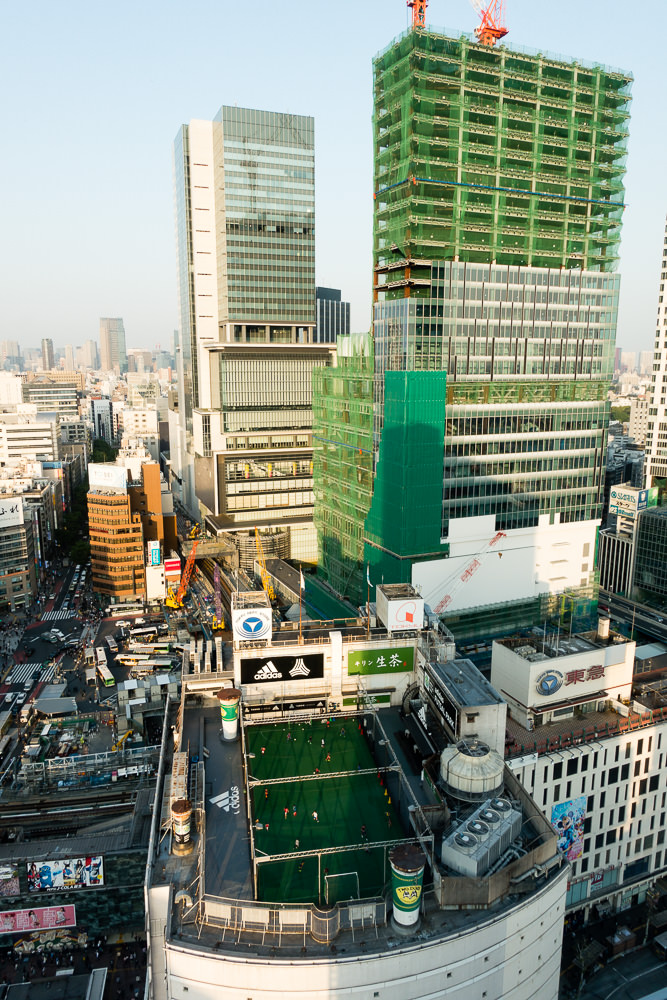 In general, roofs still seem to offer some space and emptiness in Tokyo.
Of course, Tokyo is full of bright, futuristic backdrops.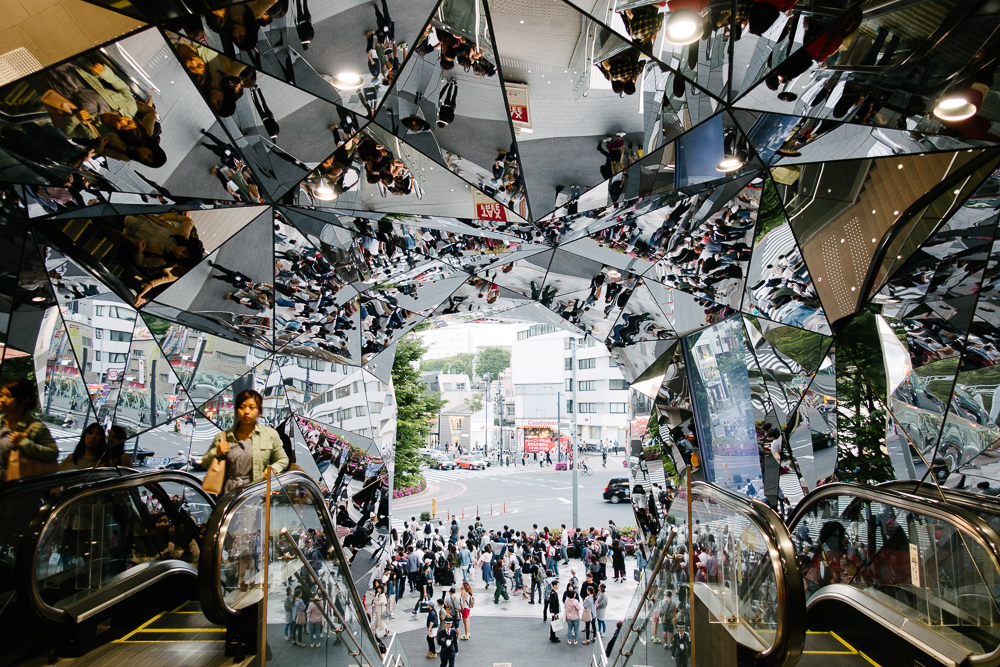 But there are also traditional, rustic districts and above all restaurants. There is enough space for about 10 people – comfortable. One usually gets into conversation quickly.
Sometimes these places have…*RIGHT*…sushi!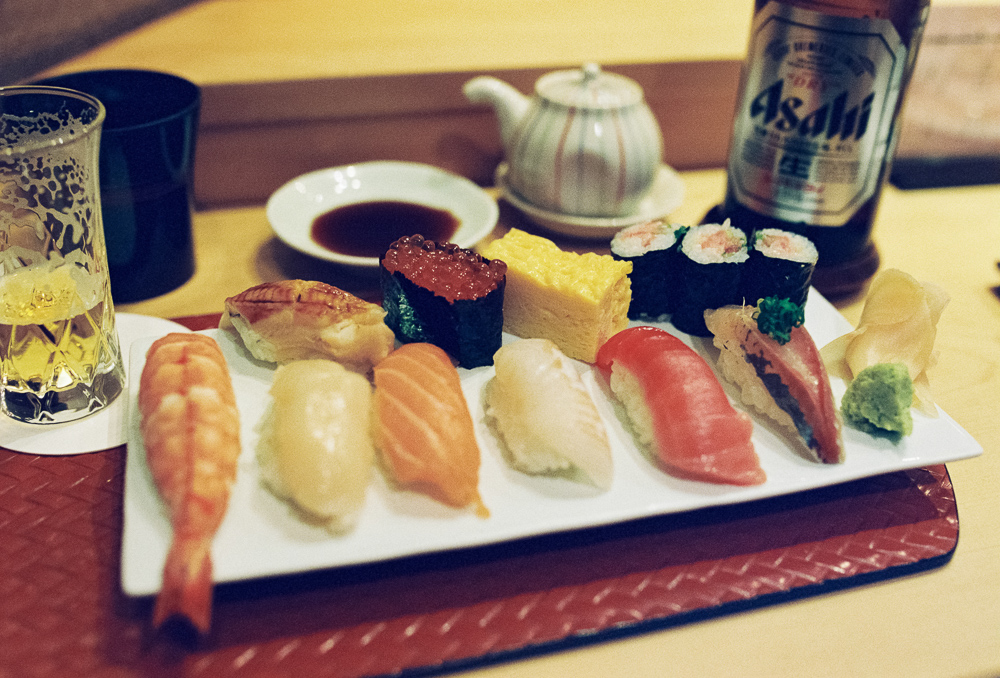 Arrigato for stopping by. : – )